Topics on this page
---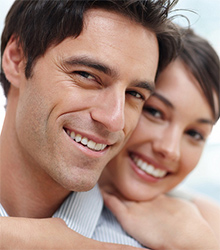 Bonding/Fillings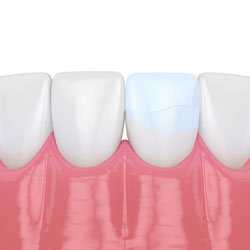 Bonding is a conservative way to repair slightly chipped, discolored, or crooked teeth. During dental bonding, a white filling is placed onto your tooth to improve its appearance. The filling "bonds" with your tooth, and because it comes in a variety of tooth-colored shades, it closely matches the appearance of your natural teeth.
Tooth bonding can also be used for tooth fillings instead of silver amalgam. Many patients prefer bonded fillings because the white color is much less noticeable than silver. Bonded fillings can be used on front or back teeth, depending on the location and extent of tooth decay.
Bonding is less expensive than other cosmetic treatments and can usually be completed in one visit to our office. However, bonding can stain and is easier to break than other cosmetic treatments, such as porcelain veneers. If it does break or chip, tell your doctor. The bonding can generally be easily patched or repaired in one visit.
---
Bridges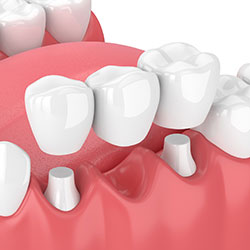 A bridge may be used to replace missing teeth, help maintain the shape of your face, and alleviate stress on your bite.
A bridge replaces missing teeth with artificial teeth, looks great, and literally bridges the gap where one or more teeth may have been. Your bridge can be made from gold, alloys, porcelain, or a combination of these materials and is bonded onto surrounding teeth for support.
The success of any bridge depends on its foundation: the other teeth, gums, or bone to which it is attached. Therefore, it's very important to keep your existing teeth, gums, and jaw healthy and strong.
---
Crowns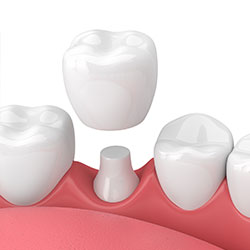 Crowns are a cosmetic restoration used to strengthen a tooth or improve its shape. Crowns are most often used for teeth that are broken, worn, or partially destroyed by tooth decay.
Our same-day crowns are cemented onto an existing tooth and fully cover the portion of your tooth above the gum line. In effect, the crown becomes your tooth's new outer surface. Ceramic crowns are most often preferred because they mimic the translucency of natural teeth and are very strong.
Crowns or onlays (partial crowns) are needed when there is insufficient tooth strength remaining to hold a filling. Unlike fillings, which apply the restorative material directly into your mouth, a crown is fabricated away from your mouth. In our practice, permanent crowns are most frequently done in just one visit using our E4D CAD/CAM technology.
---
Implant Restoration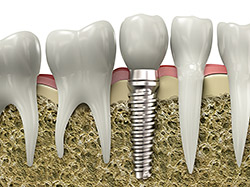 People are living longer than ever, and while regular brushing, flossing, and checkups allow many of us to maintain our natural smiles for a lifetime, sometimes our teeth just can't keep up. If you've lost a tooth (or a few teeth) due to injury or disease, dental implants can rejuvenate both your smile and your oral health.
An implant is a synthetic tooth root in the shape of a post that is surgically placed into the jawbone. The "root" is usually made of titanium (the same material used in many replacement hips and knees), a metal that is well-suited to pairing with human bone. A replacement tooth is then fixed to the post. The tooth can be either permanently attached or removable. Permanent teeth are more stable and feel more like natural teeth.
The ideal candidate for implants is a non-smoker who has good oral health, including a sufficient amount of bone in the jaw, and healthy gums with no sign of gum disease.
---
Mouthguards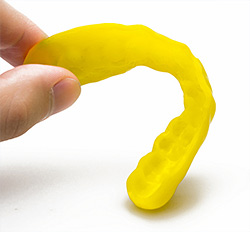 Whether you wear braces or not, protecting your smile while playing sports is essential. Mouthguards help protect your teeth and gums from injury. If you participate in any kind of full-contact sport, the American Dental Association recommends that you wear a mouthguard. Choosing the right mouthguard is essential. There are three basic types of mouthguards: the pre-made mouthguard, the "boil-and-bite" fitted mouthguard, and a custom-made mouthguard from your dentist. When you choose a mouthguard, be sure to pick one that is tear-resistant, comfortable and well-fitted for your mouth, easy to keep clean, and does not prevent you from breathing properly. Your dentist can show you how to wear a mouthguard properly and how to choose the right mouthguard to protect your smile.
---
Nightguards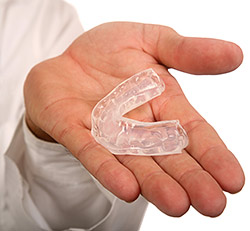 If you often wake up with jaw pain, earaches, or headaches, or if you find yourself clenching or grinding your teeth, you may have a common condition called "bruxism." Many people do not even know that they grind their teeth, as it often occurs when one is sleeping. If not corrected, bruxism can lead to broken teeth, cracked teeth, or even tooth loss.
There is an easy, non-invasive treatment for bruxism: nightguards. Nightguards are an easy way to prevent the wear and damage that teeth-grinding causes over time. Custom-made by your dentist from soft material to fit your teeth, a nightguard is inserted over your top or bottom arch and prevents contact with the opposing teeth.
Teeth grinding, or bruxism, refers to excessive grinding of the teeth and/or excessive clenching of the jaw, usually occurring when one sleeps. If you wake up with jaw pain, tension headaches, or facial pain, you may be suffering from bruxism. Some people aren't even aware they are grinding or clenching their teeth at night until a visit to us reveals significant tooth enamel loss or damage to restorations.
Tension, stress, and anxiety experienced during the daytime can carry over to an individual's sleep, and lead the person to grind his or her teeth together or clench the teeth unknowingly. Regardless of the cause, however, frequent clenching and grinding wears down the chewing surfaces of the teeth reduces tooth enamel and can result in a cracked or chipped tooth, crown, or filling.
Treatment Options
Fortunately, there is a non-invasive and effective solution for teeth grinding, and the tooth enamel damage it can cause, in custom-fabricated nightguards. Nightguards are created through a non-invasive process that includes taking an impression of the bottom and top rows of teeth. The result is a nightguard that is flexible, comfortable, and personalized to your mouth.
Although it's important to wear your nightguard faithfully if you grind your teeth at night, you can also follow a few self-care tips to help to prevent your teeth grinding from worsening.
Reduce tension and stress. Whether you take a warm bath before bed, listen to soothing music, or exercise, practicing stress-relieving activities can help alleviate stress and tension.
Avoid alcohol and caffeine. In some patients, alcohol and caffeine can increase teeth-grinding tendencies.
Focus on relaxing jaw muscles. Make a conscious effort to keep your jaw relaxed. A warm washcloth against your cheek, sticking your tongue between your teeth and avoiding chewing pencils, pens, and gum are all ways to train the muscles of your jaw to stay relaxed. Remember: lips together, teeth apart!
Because you may have bruxism and be unaware of it until complications develop, it's important to know the signs and symptoms of bruxism and to seek regular dental care. If you suspect that bruxism is the cause of your headaches or jaw pain, please contact our office and schedule an appointment.
---
Veneers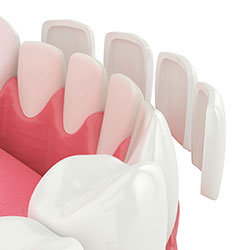 You no longer need to hide your smile because of gaps, chips, stains, or misshapen teeth. With veneers, you can easily correct your teeth's imperfections to help you have a more confident, beautiful smile. Veneers are natural in appearance and are a perfect option for patients wanting to make minor adjustments to the look and feel of their smile.
Veneers are thin, custom-made shells made from tooth-colored materials (such as porcelain) designed to cover the front side of your teeth. To prepare for veneers, your doctor will create a unique digital model of your teeth, which is scanned into our CAD/CAM unit, which creates the veneers in one visit,. Before placing your new veneer, your doctor may need to conservatively prepare your tooth to achieve the desired esthetic result.
When placed, you'll be pleased to see that veneers look like your natural teeth. While veneers are stain-resistant, your doctor may recommend that you avoid coffee, tea, red wine, and tobacco to maintain the beauty of your new smile.
---